Contrary to the brilliant yet sad musical, our Last Five Years of marriage have been pure awesomeness. I have never been one to be able to eloquently express myself with words, which I think is why I was so drawn to art (no pun intended, har har). Unfortunately for Jeff and our children, that pretty much guarantees that they are only ever going to get art projects and graphic designs for presents.  Although, at the same time, I think that these little family projects that I make are somewhat of a personal history and could perhaps be very interesting to our posterity someday. For now, we are enjoying the custom artwork hanging in our home which reminds us of all of our fun adventures and experiences in life.
Jeff and I were recently discussing all the adventures and fun we have had over the years, and we feel like we have met all the expectations we always had for our marriage, and then some!  It inspired me to compile just a few of the highlights of the last 5 years in an infographic.  Of course an single infographic could never adequately cover all the adventures we have had, but I feel this is a fair representation of the major events at least. In any case, being married to Jeff has been the best thing in the world and I couldn't have asked for a better eternal companion.
(Interested in an infographic of your own? Get more information here: http://liliribs.com/infographics )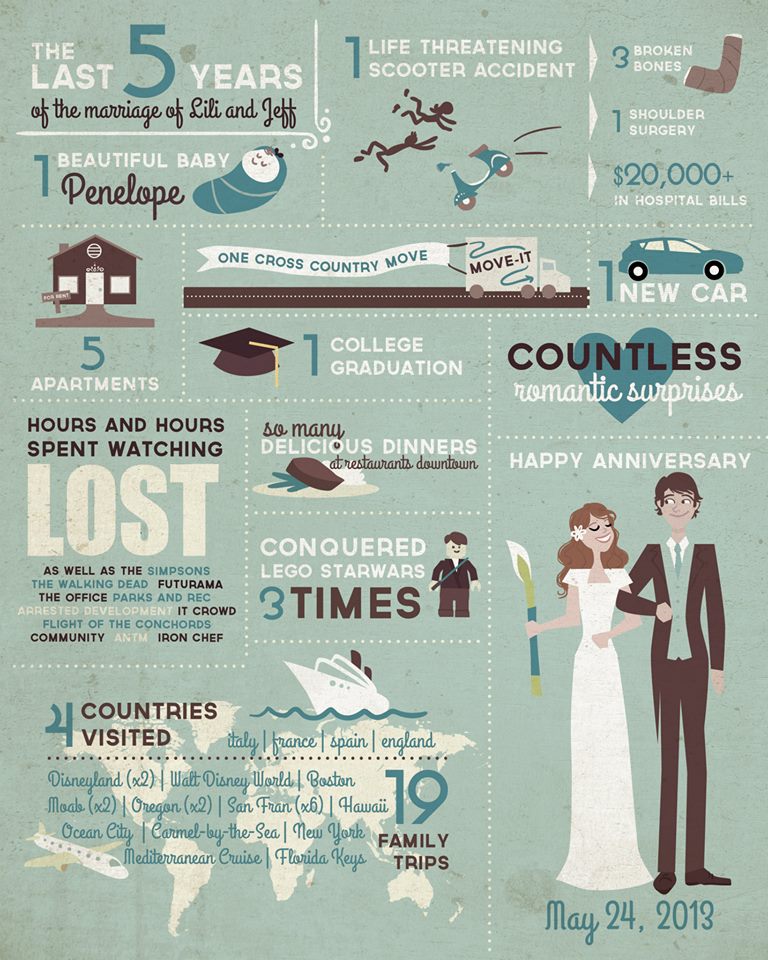 As for our actual day, we spent the evening at Grafiatto, one of our favorite tapas restaurants downtown, eating among other things rabbit ragu, delicious steak, and olive oil ice cream, then came home and had a toast with some bubbly blood orange drink. Good food, good company, great occasion for celebrating.  It was a perfect date! Love you Jeff! Can't wait to see what will be on our 10 year infographic!