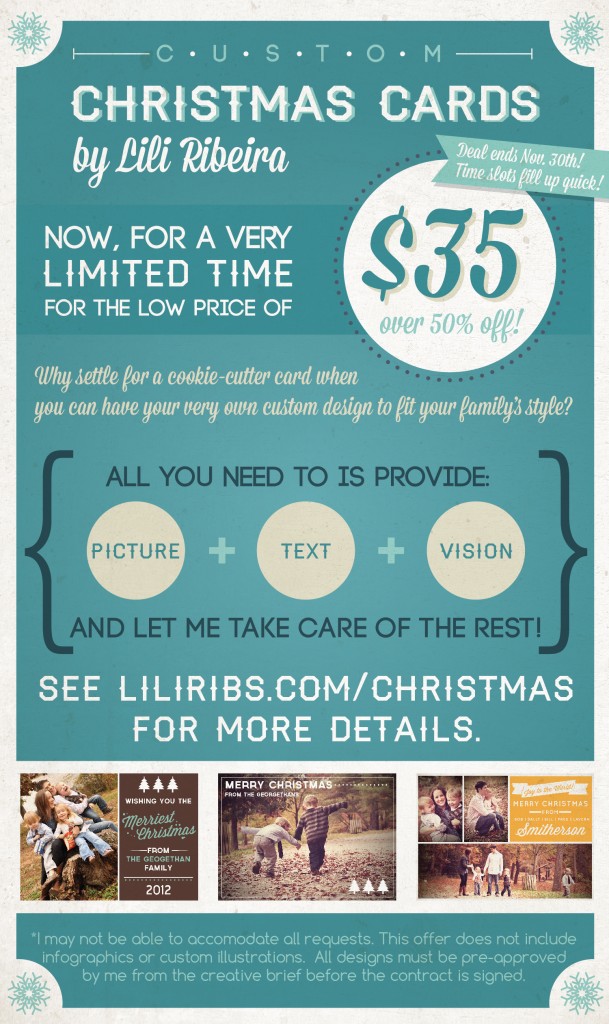 Hey there friends!  I'm excited to announce this great promotion, lasting only until December 1st. Through November, I am offering custom designed Christmas Cards for the low price of $35! No need so settle for a template that everyone else is using when you can work with a professional designer to create your own!  I'm happy to create photo collages and include simple holiday graphics (snowflakes, ornaments, trees, presents, etc.).  Just let me know what you have envisioned and I will make it come true!
Spots will fill up fast, so don't hesitate!
The nitty gritty:
-Fill out the creative brief below and give all the details you want to include in your card.  You will also need to provide your picture files.  Feel free to send examples of styles you like.  All designs must be pre-approved by me before moving forward.
-I will send you a simple contract and ask for a $15 downpayment toward your card up front. My preferred method of payment is paypal.
-This is a picture-based card with your short holiday message.
-This DOES NOT include infographics, illustrations or typography/graphic based cards.  For pricing and availability for those projects, you can reach me from the contact button above.
-I will do my best to accommodate your requests, but sometimes my creative license as the designer will come into play with some design decisions. No matter what you will have an awesome looking Christmas card!
-With the $35 deal, you will receive one design with 3 revisions.  Every revision after that will cost $5 (if the revision is because of something on my end, you will not be charged.)
-You will allow two weeks for you design to be completed after I receive your deposit, though I anticipate finishing it much sooner than that 🙂
-I will send you a hi-res JPG and PDF of your shiny, new card which you will be free to print where ever your heart desires.
-Spots fill up fast, so act quickly!
Some very basic examples:
If you have any more questions, feel free to contact me at lili.ribs@gmail.com.
Fill this form out to begin!